I have two LM dolls I want to paint. I still remember how hard it is take older LM dolls apart, not doing that again. So GHSP isn't an option. I don't want to reborn them, just add some blush, nails and brows. Air Dry paint seems like it would be easier. Any recommendations?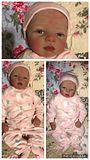 Posts: 1127
Joined: Sat Mar 27, 2010 5:42 am
Location: TN
Feedback:

112

|

0

|

0

Contact:
If your wanting paints aimed specifically to reborn doll painting then HunnyBuns WaterBorne and MacPhersons RebornFX are both very good brands to have on hand. If you want a very good artist grade paint that works well for reborning then Golden brand is great
Thank you. I'll check them out.