yeah me neither.. how fun to have your baby as a baby forever.... she did do a great job!!!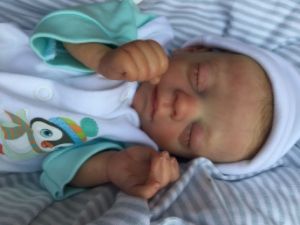 Suzanne
https://www.facebook.com/mondayschildnursery
VISIT MY ETSY SHOP
https://www.etsy.com/shop/Mondayschildn ... _shop_more
---
Wow..looks just like Him..Ping Lau is so talented..how big is this ?
---
Posts: 1638
Joined: Mon Dec 29, 2003 7:42 pm
Location: Indiana
Feedback:

8

|

0

|

0
Wow, Pat!! How great it is to see a sculpt that looks so much like your son David! The artist has him identical to David's picture!
---